On May 15, 2018, the National Exhibition of the Republic of Belarus opened in Dushanbe. The opening ceremony of the largest Belarusian exposition abroad was attended by the presidents of Belarus and Tajikistan, Alexander Lukashenko and Emomali Rahmon.
The exhibition in Tajikistan is one of the largest national expositions of Belarus in recent years.
The state-owned enterprise ACADEMPHARM took part in the national exhibition at the collective stand of the National Academy of Sciences of the Republic of Belarus, as well as in the complex exposition of pharmaceutical enterprises of Belarus organized by the state-owned enterprise "Holding Management Company "Belfarmprom".
Initially the National Exhibition of the Republic of Belarus in Tajikistan was supposed to stay open till May 17, but at the very beginning of the exhibition, the President of the Republic of Tajikistan Emomali Rahmon expressed the view that three days are not enough to allow everyone to properly study cooperation opportunities and the product assortment showcased by Belarus. The Belarusian head of state agreed with this. As a result, an instruction was given to run the expo for a week instead of three days.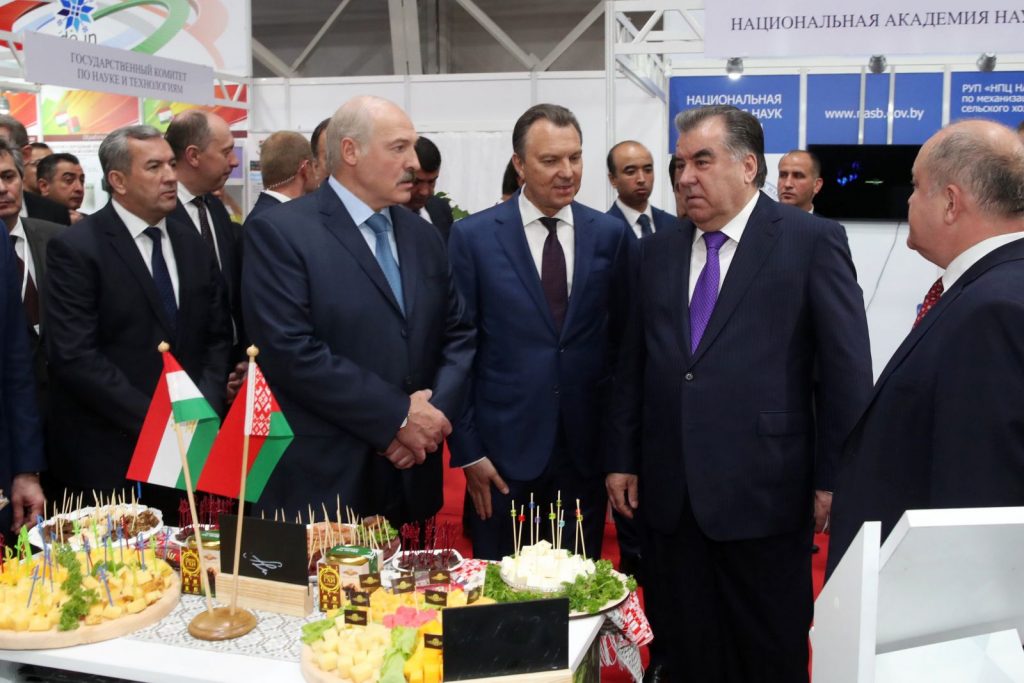 The heads of states were made closely familiar with the exposition and discussed concrete areas and possible projects for the development of cooperation in various fields. Emomali Rakhmon was strongly interested in products made by Belarusian industrial companies. The heads of states discussed the prospects of further promotion of BelAZ products on the Tajik market. At the same time, the creation of joint ventures was mentioned more than once during the tour of the expo. The President of Tajikistan suggested studying the issue of opening an assembly production of Belarusian elevator equipment, products in the field of food and medicine. Modern municipal vehicles, in particular, electric buses made by Belkommunmash, sparked interest.
The exhibition is attended by 147 Belarusian enterprises operating in the fields of food industry, mechanical engineering, production of specialized equipment and household appliances, education, science and technology, innovative activities, medicine and pharmaceutics, sports and tourism, chemistry and oil chemistry, woodworking and pulp and paper industry, communication and information technology, production of building materials, book publishing and printing industry.
Based on BelTA materials
Photo BelTA